The two types of auto insurance coverage for physical damage to your vehicle are collision and comprehensive. While liability coverage, which is required in the majority of states, protects you in the event that you harm another person or their property, comprehensive and collision coverage protects your vehicle.
In the case of an accident, liability, collision, and comprehensive coverage all work together to protect you. Independent of who is at fault, comprehensive and collision coverages let you file claims for damage to or total loss of your car.
What is Covered by Collision Insurance?
You may have heard that having collision and comprehensive insurance is "full coverage." That can be misleading. Collision and comprehensive insurance cover a lot of circumstances, but not all of them.
Your car is struck by another one.

Your car is protected by collision insurance in the following situations:

Your car collides with another one

When you strike a still object (e.g. tree, fence, house)

Vehicle tipping, rolling, or flipping without intent
Regardless of who is at fault for the accident, collision insurance protects your car. You must first pay your deductible before your coverage will kick in to cover the remaining cost of repairs or the total loss of your car.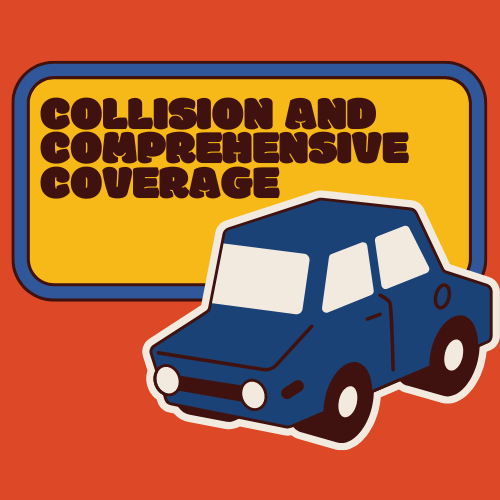 What is Covered by Comprehensive Insurance?
The term "comprehensive" is not always accurate. Comprehensive insurance, usually referred to as "other than collision," does cover a number of circumstances that collision insurance does not. It's a good idea to carefully check your auto insurance policy to see exactly what is covered because comprehensive insurance's specifics can differ.
In the following situations, comprehensive insurance often covers your car:
Vandalism

shattered glass

Theft

Damage from falling objects or flying missiles (defined as any flying or propelled object, such as a piece falling from a moving vehicle) (trees, boulders, etc.)

Animal Contact Fire Floodwaters

Damage brought on by natural disasters or extreme weather (e.g. hail, wind, tornado, or hurricane)
If one of these risks causes damage to your car, your comprehensive insurance will cover the repairs or total loss up to the car's real cash worth after you've paid your deductible.
Drivers from other nations who are accustomed to purchasing "comprehensive insurance" that combines liability and property damage (sometimes known as "third-party coverage" abroad) into a single policy may find comprehensive coverage to be particularly perplexing.
What is Not Covered by Collision and Comprehensive Coverage?
Your car is protected against numerous circumstances when you have comprehensive and collision coverage, but not always. It excludes the following circumstances:
Mechanical breakdown (not related to an accident)

Electrical malfunction

Use and abuse

Unlisted and unspecified custom equipment covered by the insurance or the custom-equipment endorsement

Further harm brought on by a failure to take precautionary action

Deliberate acts

Criminal conduct (damages during your attempt to evade police)

A law enforcement agency seizing or wrecking your car
Additionally, albeit unlikely, coverage does not cover harm caused by the following unlikely events:
Explosion or nuclear exposure

biochemical assault

War
Vehicle theft is covered by comprehensive coverage, but not all aspects of it. The following is not covered by either your collision or comprehensive insurance:
Personal things damaged in or stolen from your car

Electrical devices that weren't originally installed in your car but have been damaged or stolen (An additional endorsement is necessary for certain aftermarket electronics.)
What is Meant by Household Exclusion?
You cannot use liability coverage for a member of your household if it is excluded from your liability policy. The household exclusion prevents anyone living in your home from filing a liability claim against the liability insurance on your car. Instead, you would make use of your collision insurance.
For instance, two accident claims would need to be filed for the repairs if one spouse backs into the other's car as they are pulling out of the driveway and both are severely impaired. Normally, deductibles would be required for each claim.
What Other Kind of Coverages Fall Into an Auto Insurance Policy?
Since states mandate that drivers and car owners have a means of compensating persons they injure with their vehicles, your liability coverage is the primary element of your auto insurance policy. You can add comprehensive and collision insurance to your coverage as separate, optional policies.
Bodily Injury Liability (BI)

and

Property Damage Liability (PD)

are the two subcategories of

Liability Auto Insurance (PD)

. Together, these two components protect your assets by paying off damages to third parties that your car has caused.

Uninsured Motorist Property Damage Coverage

is available as an option in a few jurisdictions and required in a few others, it helps cover repair expenses if your car is damaged by an uninsured driver. Collision is a better option if you want more protection for your vehicle because it often has lower limitations.

Uninsured and underinsured motorist coverage

is bodily damage insurance that can be purchased and, in certain places, is mandated. It helps pay for your medical costs in the event that you are hurt by a driver who has little or no insurance.

Personal Injury Protection (PIP) or MedPay

– These coverages pay for your motor accident-related injuries, regardless of responsibility, according to your limits. PIP coverage is primary even if another party is at fault and has bodily injury liability coverage because the majority of states that mandate PIP are "no fault" states.
Are You Required to Carry Collision and Comprehensive Coverage?
No state requires you to have collision or comprehensive coverage. Therefore, they are optional.
Until the automobile is paid off or returned, the leasing or finance company will need you to carry comp and collision insurance. Since the banking institution owns the vehicle, it is within its rights to demand that you obtain this insurance, pay a deductible (which is often $500 or less), and have any damage fixed.
Some auto insurance companies only provide comprehensive coverage if you also get collision coverage. Rarely do people only carry one or the other. However, it might make sense to carry comprehensive insurance but not collision in some circumstances, such as when storing a car and not using it. Check with your insurance provider to determine whether separate coverages are offered.
If you wish to make claims with your auto insurance provider for the majority of car damage types, including complete loss, comprehensive and collision coverage are a requirement. No other form of insurance will provide this level of protection for your car.
What If I Do Not Carry Collision and Comprehensive?
The type of insurance you must carry, Property Damage Liability, does not in any way cover your car. Your car won't be covered by your auto insurance if you don't include comprehensive and collision coverage.
The only method to file an auto insurance claim for damage to or total loss of your vehicle if you are at fault in an accident is with collision coverage. Without it, you'll be responsible for making the payment yourself.
When an uninsured driver strikes your car, you can file a collision claim with your auto insurance company, which will then pay for your repairs (less your deductible) and pursue the at-fault driver for damages.
That is far simpler than attempting to have the uninsured party personally pay for your damages, which might result in you going to court to seek a judgment against them.
How Are the Limits of Collision and Comprehensive Set?
You cannot select a maximum limit for collision and comprehensive insurance, unlike liability insurance. Instead, the value of your car determines the coverage's maximum limit. The Actual Cash Value (ACV) of your vehicle is the highest amount that your collision or comprehensive coverage will compensate you for. The fair-market value of your car at the time of the accident is known as the ACV.
In contrast, property damage liability insurance allows you to set a maximum limit, and if you cause damage to another person's vehicle, your policy will pay up to that level. You may be held liable for the remaining charges if the person's repair costs are greater than your liability cap.
If you choose an agreed-on value policy and insure a vintage or specialty car, the ACV maximum for collision or comprehensive coverage is exempt. If you've spent a lot of money fixing an older vehicle and the book value doesn't accurately reflect the vehicle's value, you need this. With this unique kind of coverage, you decide the car's worth before the insurance even starts.
What is a Deductible?
Before your auto insurance coverage kicks in to cover the remaining expenses of repairs or the actual cash worth of a damaged vehicle, you must pay a deductible. You must pay a deductible each time you file a collision or comprehensive claim because they are per event.
You may be able to choose a zero deductible for glass breakage under some policies. State law in Florida, Kentucky, and South Carolina mandates that the comprehensive deductible on glass repairs be waived. This is solely for windshield repairs or replacements in Florida, and for all glass breakage in Kentucky and South Carolina.
Although some insurers permit greater deductibles of up to $2,500, they commonly range from $250 to $1,000. Your contract will often stipulate that your deductible must be $500 or less if your car is financed or leased.
How to Choose a Deductible?
Based on what you might realistically afford to pay in the event that your car is damaged or totaled, you should choose your deductible amount. That so, choosing a higher deductible can still save you money; you don't have to go with the cheapest option. By avoiding minor claims when you select a higher deductible, the insurer assumes less risk and rewards you by lowering the cost for that part of the policy. The trade-off is that minor incidents that cost less than your deductible won't be covered by your insurer.
Lowering your deductible will allow you to file claims for smaller mishaps, but it will increase your yearly premium and can tempt you to file more claims. Your auto insurance rates may go up if you file claims, particularly numerous claims quickly. Your auto insurance company may terminate or refuse to renew your policy if you file an excessive number of claims. Though "too many claims" isn't clearly defined, it will focus on demonstrating a pattern of risk that costs your insurer money on your insurance.
Your automobile insurance will be cheaper if you choose a greater deductible, but it could be more challenging to come up with the cash when repairs are required. For example, if you can't afford a $1,000 deductible for $4,000 in repairs, your insurance company may choose to defer paying its half, keeping your damaged automobile in your garage rather than in the shop. Alternatively, your insurance company might cover its amount, but the shop won't release your car until you pay your deductible.
Ways You Can Save on Collision and Comprehensive
You can reduce the cost of your collision and comprehensive premiums in addition to raising your deductible. Always check with your insurer to see if you're getting all the discounts that should be offered in your case.
Following is a list of typical discounts, which vary depending on the insurance and the state:
Completing a course on accident prevention or driver training

Multiple-cars discount

New-car discount

Hybrid or alternative fuel vehicle

Good student discounts

Student away

Good driver

Low mileage

Pay-as-you-go driving services
Collision discounts may also be available for vehicles with specific features:
Auto-locking brakes

Systems that control traction

Systems for electronic stability

Daylight-saving lighting
Discount on Comprehensive:
Good student

Student away

Good driver

Anti-theft devices

VIN etching on the car

Several cars on the policy

Hybrid or alternative fuel vehicle
How Do I Make the Decision to Claim Against My Policy?
Only if the cost of repairs exceeds your deductible can you file a claim. You are in charge of paying for any repairs to your car up to the deductible amount.
If the cost of your claim won't be much more than your deductible, it can still be worthwhile to pay cash rather than file a claim, which could raise your rates in the future.
Consider your resources to see if you can afford the full $700 deductible, for example, if your claim is for $700 and your deductible is $500, to avoid having your rates influenced by a claim at your next renewal time.
Additionally, keep in mind that filing many claims can cause your premiums to soar or even result in your insurer refusing to renew your policy at the conclusion of your term because they perceive you to be an excessive risk.
The car is followed by the collision and comprehensive coverages, not the driver. Your auto insurance coverage will be utilized to handle claims if someone borrows your car and gets into an accident while operating it, which could have an impact on your rates in the future.
Collision Claim
You may file a collision claim in any accident, regardless of who was at blame. The repairs or entire loss of your vehicle will be covered, up to the amount of the car's real cash value, after your deductible is paid.
If the other party is at fault, you can file a claim under either their collision policy or their property damage liability coverage. If the other driver's insurance limits are low and might not cover your repairs or the total loss of your car, you might wish to submit a claim under your collision policy rather than the at-fault party's insurance.
Your auto insurance company should subrogate (seek recompense from) the other party or his insurance company if you file a claim under your collision coverage. Your insurance company will typically attempt to recover your deductible amount on your behalf as part of the subrogation procedure.
Normally, if you were leasing or financing an automobile, you would have had to add the lender as an additional insured and loss payee to your policy. As a result, your lender will be listed on the settlement check and required to sign it.
While some lienholders will sign the settlement check over to you and let you use the funds to make the repairs, others will hang onto the check until you can demonstrate that the repairs have been performed before they will do so.
Comprehensive Claim
Comprehensive claims are made for events like a car break-in, hail damage, or a collision with a deer that are virtually always beyond your control. Because of this, unless state regulations specifically state otherwise, comprehensive claims won't often result in a rate hike.
Multiple claims of any kind, such as three comprehensive claims in three years, however, can put you at risk for non-renewal or eventually have an impact on your rates. A comprehensive claim is submitted in the same manner as a collision claim in that you call your insurance and describe the damage to your car and how it occurred.
Your insurance provider will confirm that the incident is covered and guide you through the claims procedure, explaining things like how to receive damage estimates and when your deductible is due.
Auto Repairs
You typically have the freedom to choose any repair facility for either a comp or collision claim, unless you have an agreement in place with your insurance provider to use a preferred facility (usually for a reduction in your premium).
For repairs on a financed or leased vehicle, a qualified mechanic is typically required. You might be able to fix your automobile yourself if you own it outright and pocket any additional claim funds. Future claims can be rejected or paid at a lower amount since the initial damage wasn't repaired properly if you are unable to make the necessary repairs or decide not to make the repairs and pocket the money.
The Actual Cash Value (ACV) of your car will be offered to you if it's determined to be a total loss. ACV is the value of your car at the time of the accident. You might disagree with the amount your auto insurance provider offers you for your totaled car, which it calculates using both proprietary software and price references like the Kelley Blue Book and the National Automobile Dealers Association guidebook.
The best way for you to figure out your car's ACV is to compare it to local sales of vehicles of the same year, model, and make as the one you lost. Show your insurance company the proof if you discover that your car is worth more than the amount you are offered in order to haggle for a larger settlement. Since you will be paying similar expenses for your replacement car, your whole settlement amount should include the taxes and fees you paid at the time of purchase.
Your insurance company doesn't care if your debt to your lienholder exceeds its ACV. You must buy gap insurance if the value of your car is less than the balance you owe. Gap insurance covers the shortfall between the amount you still owe the leasing or financing business and the ACV that an insurance company would have paid out in the event that your automobile was totaled.
When Should I Drop Collision and Comprehensive?
If you've owned your car for a while—generally longer than 10 years—its value may have significantly decreased, making the cost of comprehensive and collision insurance no longer worthwhile.
If any of the following conditions apply, think about removing collision and comp:
When the combined potential return on comprehensive and collision premiums is 10% or higher. The potential payout equals the real cash value of your car less your deductible. For instance, your possible payout is $2,500 if your automobile is worth $3,000 and your deductible is $500. It's time to stop paying your annual collision and comp insurance if they exceed $250.

If the sum of your deductible and annual comp and collision premiums exceeds the value of your vehicle.

When you would no longer pay to have your car repaired if it had mechanical problems. Use the funds to aid in the development of your savings for a newer automobile rather than paying for comp and collision.
Do I Need Collision and Comp for a Rental Car?
Typically, the liability, comprehensive, and collision coverages on your auto insurance policy extend to a rental car you use for pleasure (not business). There are various fees that may or may not be reimbursed, such a loss-of-use fee. If you are unable to rent the vehicle while it is being repaired, the rental company will charge you a loss-of-use fee.
Make sure your insurance coverage covers rentals before you book one, and be aware of its restrictions. Keep in mind that filing an insurance claim for a rental automobile still counts as an insurance claim and may result in higher rates in the future.